Interview: Faith Through Illness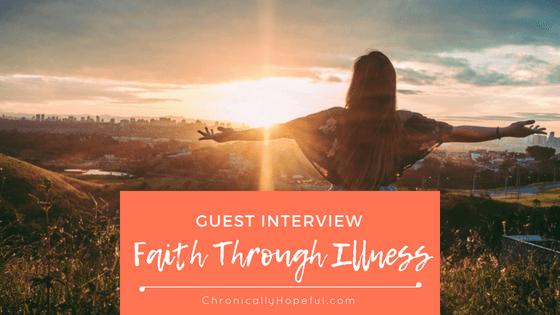 Thank you for your interest in writing a guest post on my blog. In this Faith Through Illness series I hope to showcase a variety of Christians from around the world, people of faith who all struggle with different chronic conditions.
I want to share how your faith has been affected by your health and how the Lord gets you through it. Your struggles and your victories.
There are a few ways you can share your story at Chronically Hopeful. Visit this page to find out about the various campaigns or complete the form below to participate in this Faith Through Illness series.
Request The Interview Questions:
Your questions may differ from previous interviews as this series continues to evolve
You don't have to answer all the questions sent, required fields will be marked with an *
You are not limited to these questions and may send in a completed guest post about your faith through illness or use these questions simply as a guide
To have the interview questions sent directly to your inbox, request them below:
Your email address is only used to send you the Faith Through Illness interview questions and if I need to contact you regarding your submission, you will not receive any additional communication from me.
Thank you for sharing your story!
You will be notified via email when your submission has been scheduled. If you would like to send in a couple of photos to accompany your story, you can email me at chronicallyhopefulchar at gmail dot com. Make sure to identify yourself so I know which interview they belong to. Thank you!
Previous Interviews In This Series: