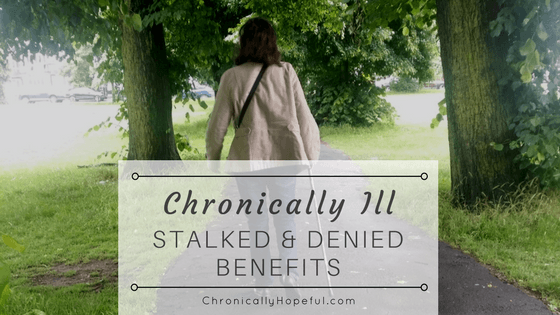 On this day last year something very wrong and so unfair came to my attention: People with disabilities, who are deemed unfit for work by doctors and occupational health assessors, are being denied benefits because of their Internet activity. They're being stalked, not only online, but in real life too!
In this post I will elaborate on some of my thoughts I'd shared online at the time. My heart goes out to anybody who has suffered unnecessarily due to such corruption in the benefits systems, not only here in the UK, but abroad too. I have spent some time in various international support groups online over the years since the onset of my ME/CFS and was shocked to read about people's experiences of surveillance through windows and being followed.
This means that if the chronically ill applicant dares venture out and is spotted, it could seriously affect their applications for benefits. This is simply wrong on so many levels.
Does this mean that since we are unable to work due to illness, we also no longer have the right to live? No longer have the right to enjoy a rare occasion out or join social media so we can connect with the outside world without the negative consequences of going out and exerting too much? Despite the discomfort and pain we will endure during and after the activity anyway.Continue reading